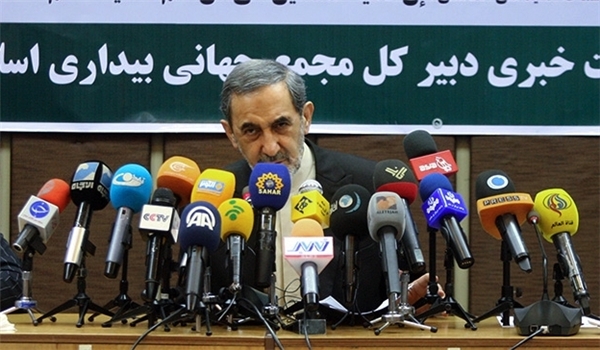 Leader's Aide Asks Egypt to Open Rafah Crossing to Gaza Aid Cargoes 
Supreme Leader's top Advisor for International Affairs Ali Akbar Velayati asked the Egyptian government to open the Rafah border crossing to the humanitarian aids destined for the Gaza Strip.
"We hope that the Egyptian government will reopen the Rafah crossing since the oppressed Gaza people are facing shortages in food and medical supplies," Velayati told reporters in a press conference in Tehran on Wednesday.
"In case this passage is reopened, humanitarian aids from across the world, specially Iran, will flood Gaza" he added.
Elsewhere, Velayati blasted UN Secretary-General Ban Ki-moon for his biased position in support of the Israeli aggressors, and said, "Compared with some previous UN secretary-generals, we see that they were eminent figures who were fit for the secretary-general post but the current UN secretary-general doesn't respect his status and is only parroting the US words."
In relevant remarks on Friday, Iranian Foreign Minister Mohammad Javad Zarif in a telephone conversation with his Egyptian counterpart Sameh Shokri expressed deep concern over the situation in Gaza, and called on Cairo to open the Rafah crossing for humanitarian aids.
Zarif called for Egypt's greater role as a big Arab and Muslim country to put an end to the massacre of the defenseless Gaza people.
He told his Egyptian counterpart that the sensations of the Iranian nation and the world of Islam have been wounded as a result of Gaza's unfavorable conditions and the savage crimes of the Zionist regime against the oppressed Palestinian nation.
The Iranian foreign minister pointed to the siege of Gaza, and asked the Egyptian government to open the Rafah crossing at least for humanitarian aid, specially for transferring and treatment of the injured people, to the people.
Zarif also referred to the trend of negotiations between the Palestinian groups in Cairo, and said, "It is necessary to pay heed to the viewpoints of the Palestinian resistance movement as well as protecting the rights of the Palestinian nation in the process."
Israel has been pounding the blockaded Gaza for 16 consecutive days, killing at least 670 people and injuring more than 3,700 others.
According to the UN, 77% of the victims in Gaza are civilian and defenseless people.